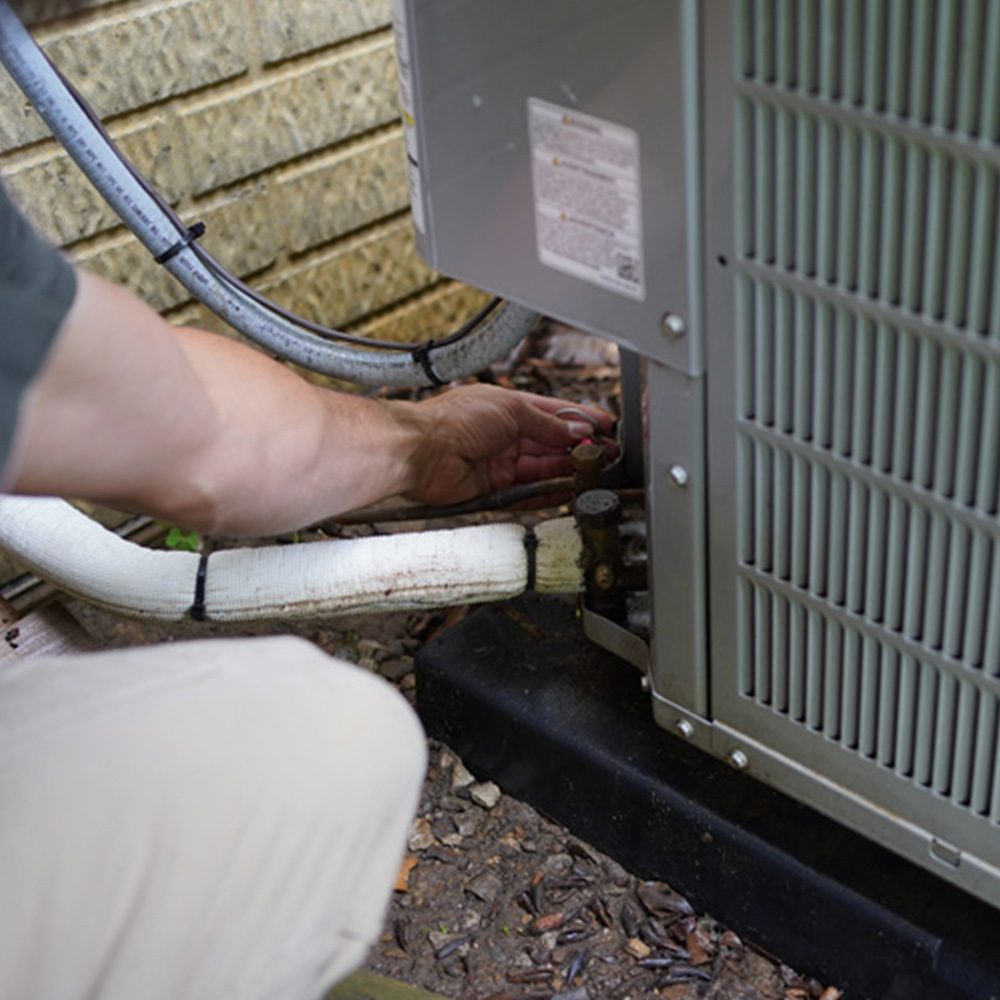 Our Professionals at Grove City Heating & Air Care About Your Indoor Comfort
When you need work performed on a home comfort system, whether it be a furnace, heat pump, air conditioner or zoned HVAC system, you need someone who delivers the best HVAC products and services at the most affordable prices. You need a true professional. A true professional is someone who takes the time to get their NATE certification. They are licensed and insured. They have a long-proven track record of excellence, and they stand behind their work. 
When you need the best HVAC products and services at the best prices, you need to call Grove City Heating & Air. Save yourself all the time and hassle of hiring an HVAC handyman or trying to DIY any work on your HVAC unit. We have you covered. Your money is best invested with our team of experts. 
When it comes to handling all of your home comfort needs, Grove City Heating & Air is second to none. Although we have the professionalism, workmanship and buying power of a major corporation, we still strive to maintain that friendly personal touch of a smaller, family-owned HVAC company in Central Ohio. We are invested in our wonderful communities and dedicated to making them better places to work and live. Throughout the years, we've made countless area homeowners like you happy. Our reputation speaks for itself as a member of the popular Five Star Brand. No one does home heating and air conditioning like Grove City Heating & Air. We proudly serve Galloway, Canal Winchester, Grove City, Delaware and Greater Columbus.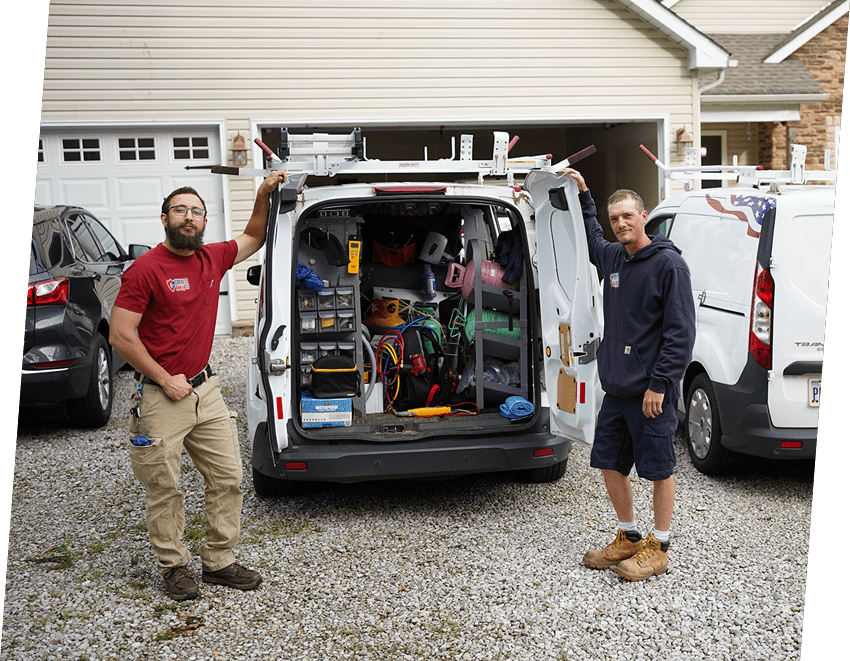 Air Conditioner Services in Grove City, Ohio
Grove City Heating & Air is a proud member of the Five Star Home Services Family. We have master plumbers and licensed electricians on staff in case you have other home service needs. We are your one-stop-shop for all types of skilled services and air conditioning services. With every single job we perform, we stop at nothing to make sure our amazing customers are happy with the work we perform. We guarantee customer satisfaction 100% across the board.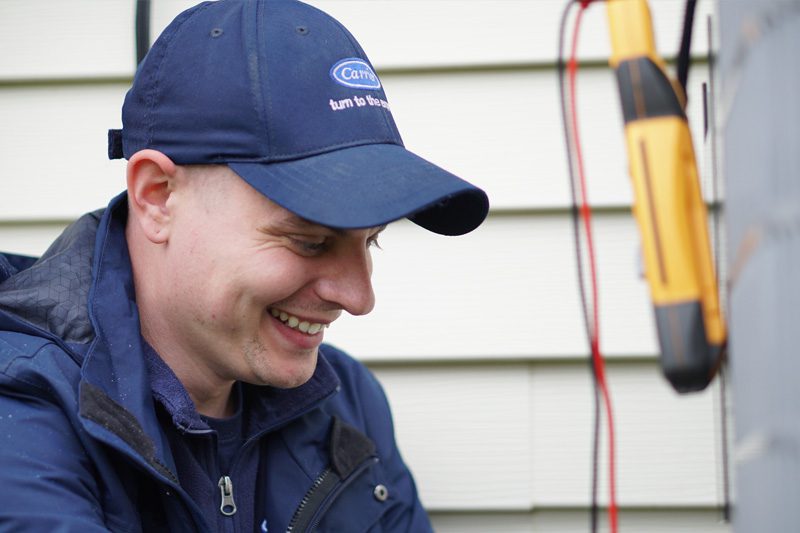 A/C Repair in Grove City & Greater Columbus, OH
Is your central air conditioner working the way you need it to? If you're having problems with a heat pump or central air conditioner, we encourage you not to delay calling us right away. Don't sweat Central Ohio's summer weather with an outdated air conditioner or inefficient cooling system or heat pump. If your central air conditioner isn't working the way you need it to and you're online looking for "air conditioner repairs near me" or "air conditioning expert near me" in Grove City, Greater Columbus or surrounding areas, you are in the right place. We're Central Ohio's top-rated air conditioning company for a reason! If your air conditioner quits working or goes on the fritz, call us today. 
Home comfort and cool relief is always a fast and easy phone call away when you choose Grove City Heating & Air for all your home comfort needs. We are local, family-owned and operated and we stand behind all of our work. 
There are a few things to consider when choosing an air conditioning repair company. The first is whether the company is licensed and insured. This is important because it protects you from liability if something goes wrong during the repair process. The second is whether the company has experience repairing your particular type of air conditioner. You want to make sure that the company you choose has the knowledge and experience to properly repair your A/C unit. Finally, you want to find a company that offers a warranty on their work. This will protect you in case anything goes wrong after the repairs are made.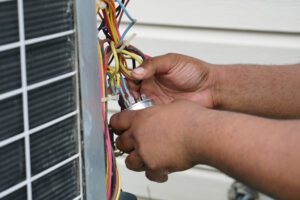 A/C Maintenance in Grove City & Greater Columbus
Whenever your air conditioner operates smoothly like you need it to and you have a steady supply of nice, cool air flowing through your home, you might be prone to take it for granted. Nevertheless, air conditioners work tirelessly throughout the summertime to keep your home nice and cool. They also remove humidity and when you lose your cool air during the summer, you truly start to appreciate your air conditioner and realize what you lost. If your central air conditioner or heat pump breaks down or stops generating the cool air you need in your residence, you know it's a major problem. 
Fortunately, you don't have to wait for this to happen. Although we are always more than happy to come over anytime and quickly restore your HVAC equipment any time, we at Grove City Heating & Air encourage homeowners and business owners to prevent this from happening in the first place. How do you prevent a/c problems in the first place? Because most air conditioning problems are caused by things that could have been prevented in the first place with preventative maintenance. 
We at Grove City Heating & Air offer homeowners the most competitive prices for air conditioning maintenance in Central Ohio. We encourage customers to keep up on their preventative maintenance needs and have maintenance performed every year to enjoy the most money-saving benefits, which include longer HVAC equipment lifespan and lower overall air conditioning costs. Maintenance also keeps factory warranties valid and ensures safety!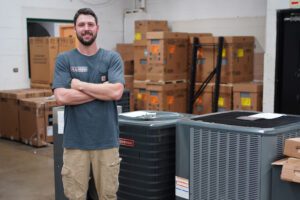 AC Installation & AC Replacement in Grove City
Are you looking to upgrade your central air conditioner? At Grove City Heating & Air, our reputation as a local business is as solid as the air conditioners we sell and install! When the time comes to replace your heat pump or central air conditioner, it is essential you find a reputable HVAC installation contractor who's local, licensed and fully insured. You want a company with a rock-solid reputation, who other homeowners trust. You can't always rely on the local handyman for A/C installation. So who do you call? You call Grove City Heating & Air. We are your local air conditioning installation company here in Grove City, Delaware, Canal Winchester, Greater Columbus and surrounding areas. We offer the best air conditioning installation services on the HVAC industry's best air conditioners at the most affordable prices. 
At Grove City Heating & Air, our team of friendly professionals make the entire A/C replacement and A/C installation process fast, simple and affordable. Installing new central air conditioners is as easy as a breeze. Nevertheless, we don't stop there. We pull out all the stops on A/C installation and A/C replacement. We sell and install all types of residential cooling systems, zoned cooling systems and heat pumps at the best prices.
Whenever our technicians come over to your home to install a new central air conditioner, we make the entire process a positive experience that you'll appreciate when we're done. From the time you first call us all the way up to when we're leaving — we customize all your home comfort.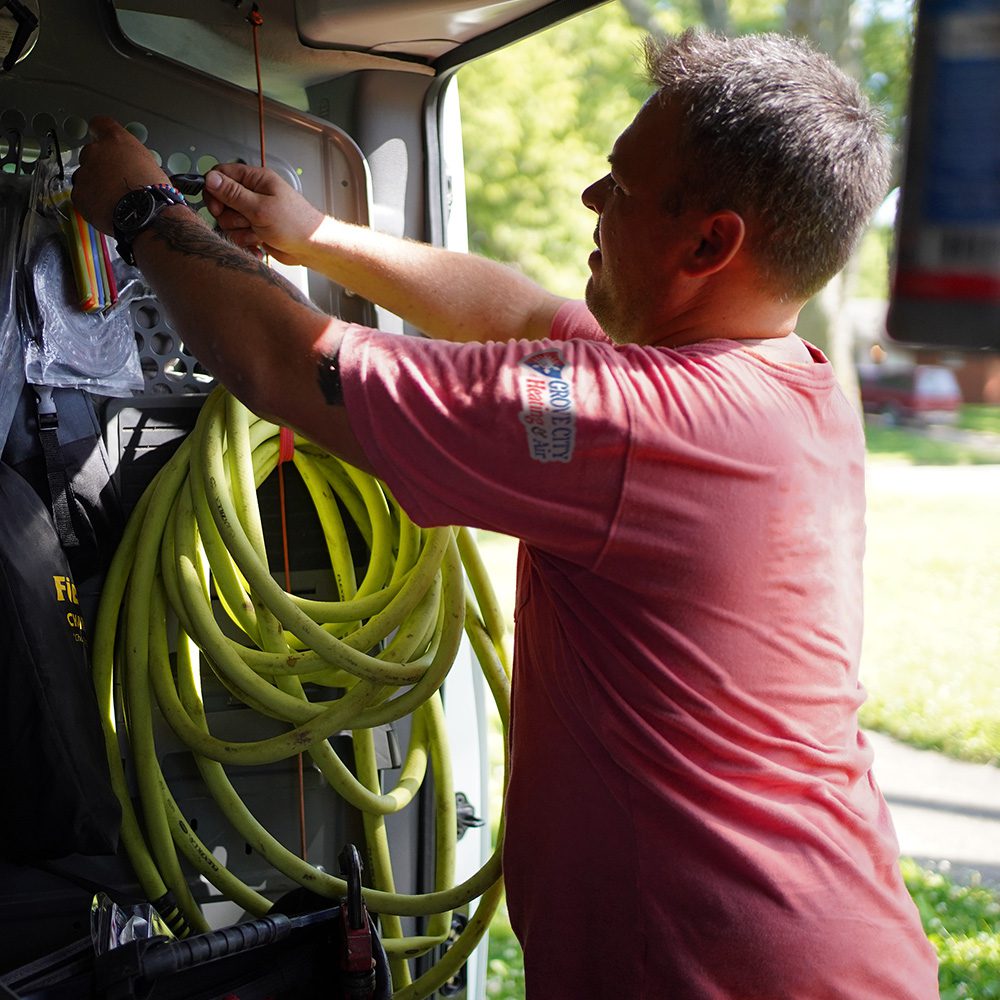 Emergency A/C Services in Grove City & Greater Columbus, OH
If your air conditioner ends up breaking down on a hot and humid summer day here in Grove City or Greater Columbus or surrounding areas, it is important to know there's a local HVAC company you can call for 24-hour emergency air conditioning repairs. 
Grove City Heating & Air offers 24-hour emergency air conditioning repairs throughout Central Ohio all summer long. Our emergency air conditioning repair experts are fast, and our HVAC services are extremely competitively priced. We don't believe in sales pressure and don't have any sort of hidden fees. If your central air conditioner breaks down during the summertime or you find yourself without the cool air you need on a hot summer day — call Grove City Heating & Air right away. Don't delay! We have live professionals standing by all the time. Grove City Heating & Air is a local, family-owned HVAC contractor who handles all types of residential air conditioning services and emergency air conditioner repairs in a timely and affordable way. We have all the skills, knowledge and expertise of a major corporation with the friendly personal touch of a small, family-owned HVAC company. Grove City Heating & Air is a proud member of the Five Star Home Services family. As a part of Five Star we also have licensed electricians and master plumbers on staff.  
What Our Customers Say About Us
4 Air Conditioner Efficiency Tips
With air conditioning costs increasing in Central Ohio, now is a more important time than ever to implement energy-efficient air conditioning solutions to help homeowners optimize their HVAC systems. Throughout the hottest months of the year in Central Ohio, your heat pump or central air conditioner is a necessity for your overall comfort. Air conditioners have a major affect on your overall rest and relaxation. They also have an impact on your health and well-being. We believe no one should be forced to sweat Central Ohio's summer weather without some form of indoor comfort and relief. We all want our homes to remain cool throughout the summer, especially when it gets hot and humid outside. If you're trying to find ways to keep your central air conditioning costs down during the summer and keep your HVAC system running at its best, we encourage you to consider the following tips: 

Use Available Fans & Ventilation
Using all fans and ventilation is a cost-effective way to make your home feel cooler during the summer. Keeping your air flowing indoors is better than using a central air conditioner alone. Although fans and vents usually don't sufficiently replace your central air conditioner during the summer, they certainly do help make a difference. They are excellent additions, and they work nicely to supplement air conditioners and heat pumps. Fans complement HVAC equipment to help keep the air flowing at all times. Whenever the air in your home is flowing, it will feel cooler. Airflow from fans and vents work nicely by themselves when it gets too hot outside.

Replace Your Air Filters Frequently
Air filters have a major effect on indoor airflow. Home comfort systems require adequate airflow in order to operate as efficiently as possible. Because of this, it is essential to check your HVAC unit's air filter at least once a month during the summer. Air filters gather dust and dirt. Whenever they become dirty, they are more obstructed. If they become obstructed indoor airflow can become hindered. This is hard on the HVAC system. Ideally, homeowners should check their furnace's air filters at least once every month during the summertime. Air filters should replaced regularly. Cleaning them is good also but they are cheap to replace and doing so reduces your home's energy consumption by 5% to 15% or more.

Limit Direct Sunlight
Whenever sunlight comes directly into a home, it can heat things up quickly. Although having some sunlight is good for ambiance as a natural source of light, the sun can also increase the temperatures in your home. This can heat things up in a hurry. Because of the effect of heat coming from the sun, we recommend homeowners prevent direct sunlight throughout the hottest days of the year. We recommend closing drapes and blinds or investing in blackout curtains to curb exterior heat.

Air Duct and Air Vent Maintenance
Make sure all your ductwork is properly insulated and everything is sealed heading into Central Ohio's hot and humid summer months. If air ducts are traveling through attic spaces and other parts of the home that aren't air-conditioned, these areas are especially important. Make sure to check for possible air leaks, punctures and holes inside your air ducts every year. If you discover air leaks in your air duct system, you can eventually use duct tape to temporarily cover the opening and prevent treated air from escaping. These air leaks and holes should be repaired by a professional.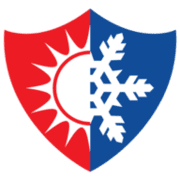 $0 Instant Online Estimate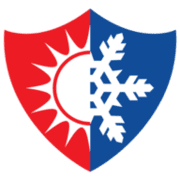 $69 Furnace Tune-Up + Safety Check
Save $30 | Regular $99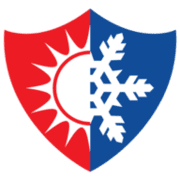 10% off Service Call
Book Now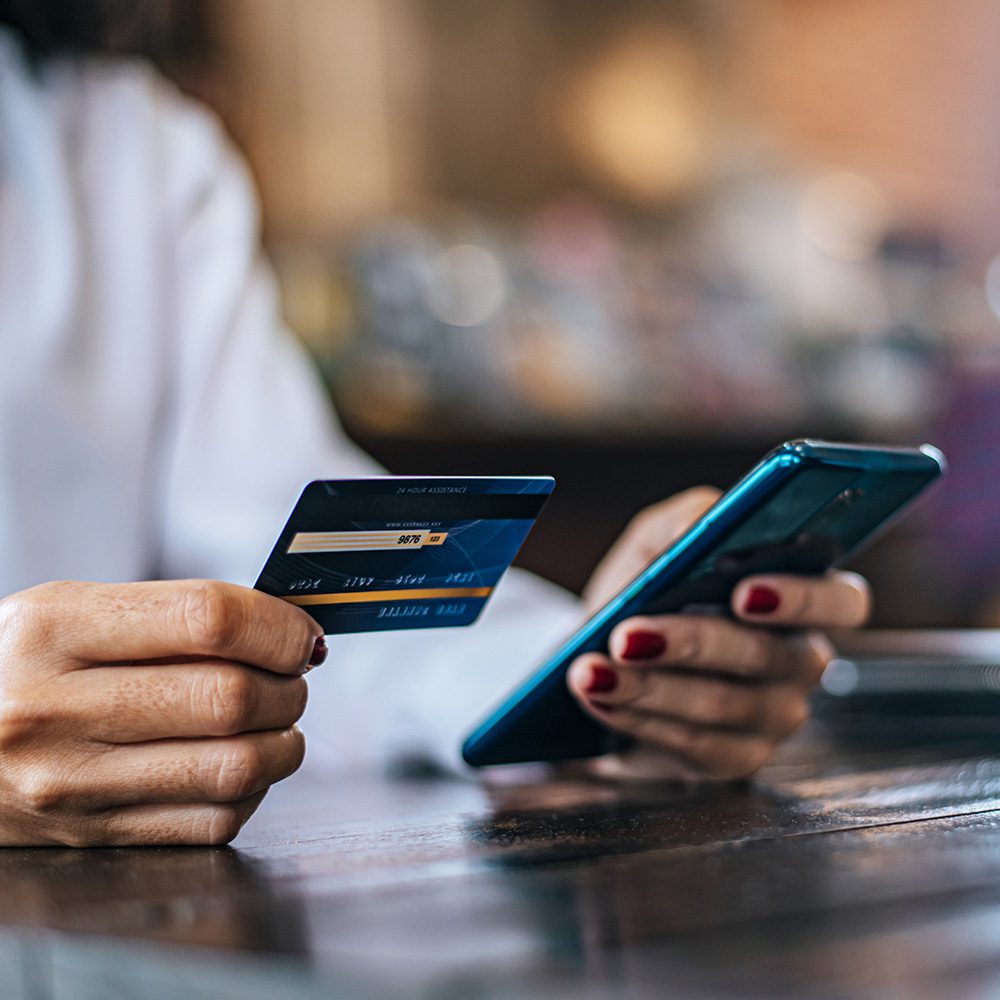 Enjoy Optimal Home Heating Now, Pay For it Overtime!
Your home comfort experts here at Grove City Heating & Air have outstanding relationships with some of the region's best lenders and most respected financial institutions.
We partner with the absolute best in the business to make the entire home heating system installation and HVAC replacement process fast, easy, simple, and affordable. We pull out all the stops and roll out the red carpet. We believe our job is to help you enjoy the most superior home comfort throughout the year, even during the hottest seasons and coldest winter weather. Your job, as our amazing customer, is merely to sit back, relax and enjoy your new HVAC system with affordable payments you can make over time.  In short, our furnace financing, heat pump financing and A/C finance options are second to none. Call us today at (614) 490-7540.